Dana Littlejohn back to share how I took a step back in time with my visit to Medieval Times. It is a dinner (or lunch) and show that takes you back into the days of the kings, knights of the realm and chivalry. They have castle in many cities. And when I say castles, I mean castle.
Since I live in Indianapolis, the closest castle to me was in Schaumberg, Ill., a suburb of Chicago. The place was beautiful. Lots of tapestries on the walls, suits of armor in every corner and the workers were dressed in time period clothing. They encouraged us to call them serfs and wenches.
We were escorted into the arena where the show would take place. John, our serf, brought our dish wear. When he returned with our drinks I mentioned we didn't have forks. He simply smiled and said to my husband,
"I see that your maiden is new to this realm. She is unaware that we do not use such things here." Then he turned to me and said, "Today we are serving a tradition meal for the kingdom, dragon blood soup with flat bread, roasted baby dragon, dragon fingers and potatoes."
Soon as he left I was like, huh? So my husband laughed then translated. "We have to eat with our fingers, honey."
Oh. Then I stared at the dishes wondering how that would happen. LOL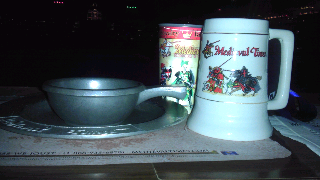 Luckily it wasn't as bad as I thought. John returned with the meal It looked and tasted surprisingly like tomato bisque soup, ½ a roasted chicken and barbeque ribs. LOL All very good, by the way.
John also told us that we were sitting in the Blue Knight's section. So he was our hero and we would be cheering for him.
The show started as we ate with the Black Knight coming into town basically telling the King he was going to run over everyone, marry the Princess and rule the kingdom out from under him. The king wasn't having it so he gathered his knights and told them one of them was going to have to handle the Black Knight.
So the tournament was on. Our Blue Knight fought well.
It was so cool. Anyway, the Black and White Knight went on to kick everyone's butt and the King sent him to defeat the evil Black Knight. Which he did and all was well in the kingdom once more.
It was a 3 hour event show and meal. It was great! When we exited the arena the picture wench (snicker) asked if we wanted to dress up and take a photo to remember the day. We looked at each other and smiled. YES!
What did I think of my experience?
I must admit, of all the new things I have tried so far this was the best. We are only at week 4 and I have so many fun things planned, but a day at Medieval Times is going to be hard to top.
I will definitely do this again. We are already making plans to bring our son when he comes home for the summer. The show will have changed by then but even if it doesn't we will do it again!
Dana
http://www.danalittlejohn.net/